If you read this
post/PINT
then you knew this was coming. Those of you awesome ladies who gave some ideas in your comments, you, my friends, are getting a "Check Out/Shout Out"!
This is the first official Grammar-On-the-Go. I am not promising it will be on the same day every single week, but for right now it will be Wednesdays.
***I am NOT judging ANYONE by their grammar skills.***
I see the blogging world as a place to be released from the chains of some grammar restrictions and use crazy spelling and alternative punctuation, but some of you have sent me emails and messages stating that you want to improve your writing.
Plus, I am one of the main ones who loves to spell things a little crazy-like for emphasis (i.e. "puh-leez").


I received so many emails, messages, and comments following my post on the non-existent word "alot" that it inspired me to start this little weekly "enlightenment."
I have been out of the classroom for almost a year, and it is killing me.
I love teaching and helping folks with new or difficult aspects of Language Arts.
One more thing: if you can give me
lesson
enlightenment topics to cover, when I do, your blog gets a Check Out/Shout Out! In other words, I am giving you a shout out so my readers will check out your blog.
Here we go...
Welcome to the first ever "Grammar-On-the-Go" with me - Bethany!
The idea of these quick tips are to help writers (and speakers) with common mistakes, not so common mistakes, and habits in an easy, quick, breezy manner: hence "…on-the-go."
By the way, CCW = Commonly Confused Words.
I know for most of the writers out there this is a given; however, you will not believe how many blogs that I have read that misuse these. It also happens all of the time if you are typing in a hurry because spellcheck will not catch it.
Use the word to when you are talking about an extent or direction.
Ex. 1 - Chris P. Kreem went to the wrong party.
Use too when you are talking about something in addition to or to an excess.
Ex. 1 - Supah had too much fun at Swan Lake.
Ex. 2 - She wanted to take a nap, too.
You better already know this one,

if not it's too late

; let's review.
The word two represents the number 2.
Ex. 1 - The mother said to the teller at the window, "I am going to need two and a half lollipops."
I have to admit that I added this just because it rhymed and looks cute.
A tutu is a ballet dancer costume that has a bodice with sleeves maybe or a skirt.
Ex. 1 - I have always looked scary in a tutu.
Ex. 2 - That tutu is too small for her to wear! <---Ta Da…Did you see that: all four forms?!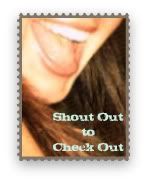 Subfertile Frugalista
: because she requested that I cover this topic - check her out!
I'
ll let you know if if I gave you a "Shout Out to Check Out," then you can post the button to your blog...if you want...please...please...you know if you have room. No biggie. =)
And, yes, that is MY mouth in the button. =)
THIS SITE IS STILL UNDER CONSTRUCTION: I PLAN ON IMPROVING THE FORMAT.
IF YOU HAVE ANY SUGGESTIONS JUST SHOOT ME AN EMAIL.
THANKS FOR STOPPING BY FOR MY FIRST DAY.